Dramatis Personae
For Blood Engines
Marla Mason is the sharp-tongued, pragmatic chief sorcerer of the city of Felport, a job she takes more seriously than life itself. She acts like a cross between a mob boss and a superhero as she protects the city from supernatural dangers, rides herd on the unruly underworld of sorcerers who live there, and makes a nice living from illegal gambling, shady real estate deals, and other pursuits. Some sorcerers specialize, but Marla is a jill-of-all-trades, a brute-force-o-mancer, a foul-rag-and-bone-shop wizard who uses whatever magic seems best suited to the task at hand. (She doesn't waste time on magic when a swift kick will get the job done, either.) When her rival Susan Wellstone prepares to cast a spell that will endanger the fate of Felport, Marla reluctantly heads west to San Francisco in search of an artifact that can stop her. Marla expects it to be a simple trip. It isn't.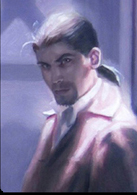 Rondeau is Marla's right-hand man (or, as she insists, more like the little finger on her left hand). Sarcastic, easily distracted, and thrill-seeking, he exasperates and amuses Marla in equal measure. Once, years ago, she ripped off his jaw, but they made up some time later, and now they trust one another utterly. Rondeau keeps her company, lifts heavy things, and saves her almost as much trouble as he causes. He's handy with a butterfly knife, too. Back in Felport, he owns the night club where Marla keeps her office, and though he used to have a serious crush on his boss, being in her company constantly has pretty much helped him get over that. Oh, and he's actually a disembodied psychic parasite who possessed the body he's currently using when it was just a little kid. But don't hold that against him.
Bradley Bowman, or just B to his friends, was an up-and-coming Hollywood actor before his lover died of a drug overdose right in front of him.The trauma (and guilt, since B was the one who supplied the drugs) did something to B's mind, and woke a latent psychic streak that now gives him bad dreams (which tend to come true in unexpected ways) and allows him to see things most people can't (and wouldn't want to). He's got a knack for finding oracles, too, though supernatural creatures with secret information do like to be paid... His life is pretty much utterly wrecked by the time he meets Marla. Soon after he meets her, things actually get worse.
The Cloak. When Marla was just a lowly freelancer, doing mercenary and bodyguarding gigs for the more powerful sorcerers in Felport, she found a purple-and-white cloak hanging in a thrift store, and felt inexplicably drawn to it. She bought it for three bucks, and before long, she realized she'd somehow lucked into (or, more likely, been mysteriously manipulated into) possession of a genuine magical artifact. The cloak is pure white, with a bruise-purple lining, and when the white side shows, it has amazing healing powers, repairing even the most grievous injuries its wearer sustains. With a mental command, Marla can reverse the cloak instantly, making the purple inner lining switch to the outside. When the purple shows, Marla becomes a single-minded killing machine, almost invincible physically and incomparably destructive. There's only one drawback: using the cloak's destructive power opens Marla's mind to invasion from the cloak's strange alien consciousness, a cold and merciless entity that wants to kill every living thing on Earth for its own reasons. Repeated use of the cloak makes Marla more susceptible to the creeping madness -- it builds up like mercury poisoning -- and she has reason to believe that, if she's not careful, it will take over her mind completely someday. Still, when you've got a weapon that powerful, it's hard not to use it...
Hamil is Marla's long-suffering consiglieri, and principal liaison between Marla and the pack of opportunistic jackals -- ahem, that is, the other leading sorcerers of Felport. (He's good at making her blunt and rude-tempered pronouncements seem more reasonable.) A master of sympathetic and contagious magic, and father-figure to a horde of well-fed nosy street orphans who act as his spies, Hamil is probably powerful enough to make a run for chief sorcerer himself... but why would he want the hassle?
Mutex is a zealot from central America who believes the ancient Aztecs were right, and the universe really does run on blood. He thinks if mass human sacrifices don't come back into style, the sun and stars and planets will all cease to turn, and all life will end. (The hell of it is, he may be right.) Armed with a range of exotic magics and accompanied by a coterie of ultra-poisonous frogs, he's come to San Francisco to find the same artifact Marla's looking for. Of course, while Marla wants the artifact to save her city, Mutex wants it to help him bring long-gone Aztec gods back to life, and he'll cut out anybody's heart who gets in his way.
Susan Wellstone is one of Marla's chief rivals in Felport, and a vocal critic of her straightforward style of government. Wellstone specializes in immensely complex and time-consuming magical rituals, and has been known to spend as long as a year on a single great spell. (Like, say, the spell that forced Marla to run across the country to San Francisco.) Cool, austere, patient, ambitious, and happiest lurking in the shadows, she's basically Marla's polar opposite (apart from the ambition, that is).
Sanford Cole is a legend in sorcerous society, the first chief sorcerer of San Francisco and court magician to Emperor Joshua Norton. Cole dropped out of sight over a hundred years ago. Sure, there's some silly legend about how he'll return to San Francisco in the hour of the city's greatest need, but who believes stuff like that?
Various San Francisco Sorcerers who help and hinder Marla in her quest, including a sex magician (or pornomancer, as Marla says when she's in a mood) named Finch, a consensual cannibal named Bethany who's into extreme body modification, a technomancer called Dalton, and the ruler of Chinatown (known only as the Celestial).
Plus assorted snake gods, retail clerks, cops, a charm of hummingbirds, oracles, seers, sybils, sex party guests, Aztec gods, and, of course, a whole army of Phyllobates terribilis, the golden poison dart frog.
A (Somewhat Crude) Map of Felport
Noting Locations of Interest
(Click for a larger version)